Building a Foundation for Literacy
In the mid-afternoon sun, children gather around a small chalkboard under the shade of a tree for their weekly reading lesson. Laughter fills the surrounding field as a community volunteer, leads them through songs, games, and other activities that help them practice reading skills. It's a moment of joy in the midst of a difficult year.
In Mozambique, more than 6.9 million children have been affected by school closures since the COVID-19 pandemic began. Low literacy rates in parents, lack of access to at-home learning support, and the expense of purchasing learning resources have made it difficult for children to continue their studies at home. This reading club, run by Right To Play-trained volunteers, helps children practice their literacy skills, ensuring they're able to keep up with their studies as they return to the classroom.

Breaking Down Barriers to Learning
When schools in Mozambique closed, Right To Play worked with the Ministry of Education to provide at-home learning support to primary school students through an educational television program called Telescola. The program reached 1.2 million children in grades one to three across the country with playful lessons that kept them – and their parents – engaged in learning at home. While the program was a good way to reach large numbers of children in their homes, youth whose families didn't own a television or mobile phone, were left out, and risked falling behind their peers at school.
"I like to study at the club because the auntie teaches us well and plays with us during the lessons. Now I can write my name and my mother's name and I can also count up to 20." – Patrícia, second grade student
To keep children learning, Right To Play established 53 reading clubs in six districts and trained more than 1,000 community volunteers to lead them. The clubs use reading competitions, storytelling sessions, and playful learning activities to build children's core reading skills, focusing on alphabet knowledge, phonetic awareness, fluency, vocabulary, and comprehension. The clubs are reaching an average of 5,300 children.
Reading club sessions played an integral role in keeping Juliana's son, Ernesto, learning throughout education interruptions caused by the COVID-19 pandemic.
"When schools closed, my son struggled to study at home and we did not have the money to make copies of the files the school provided. But when they opened the reading club in the area, I enrolled him in the sessions and it's helping him enjoy studying. Now, even on days when he doesn't have classes at the club, he will practice reading." – Juliana, mother.
In addition to nurturing children's love of reading and promoting a community-wide culture that values literacy, the volunteer club leaders also support parents who want to be more involved in their children's education, regardless of their reading ability. They equip parents with strategies and simple games they can use at home to promote their children's reading skills and language development. Then, the teachers provide ongoing support through whatsapp or follow up visits to ensure parents feel comfortable with the learning strategies.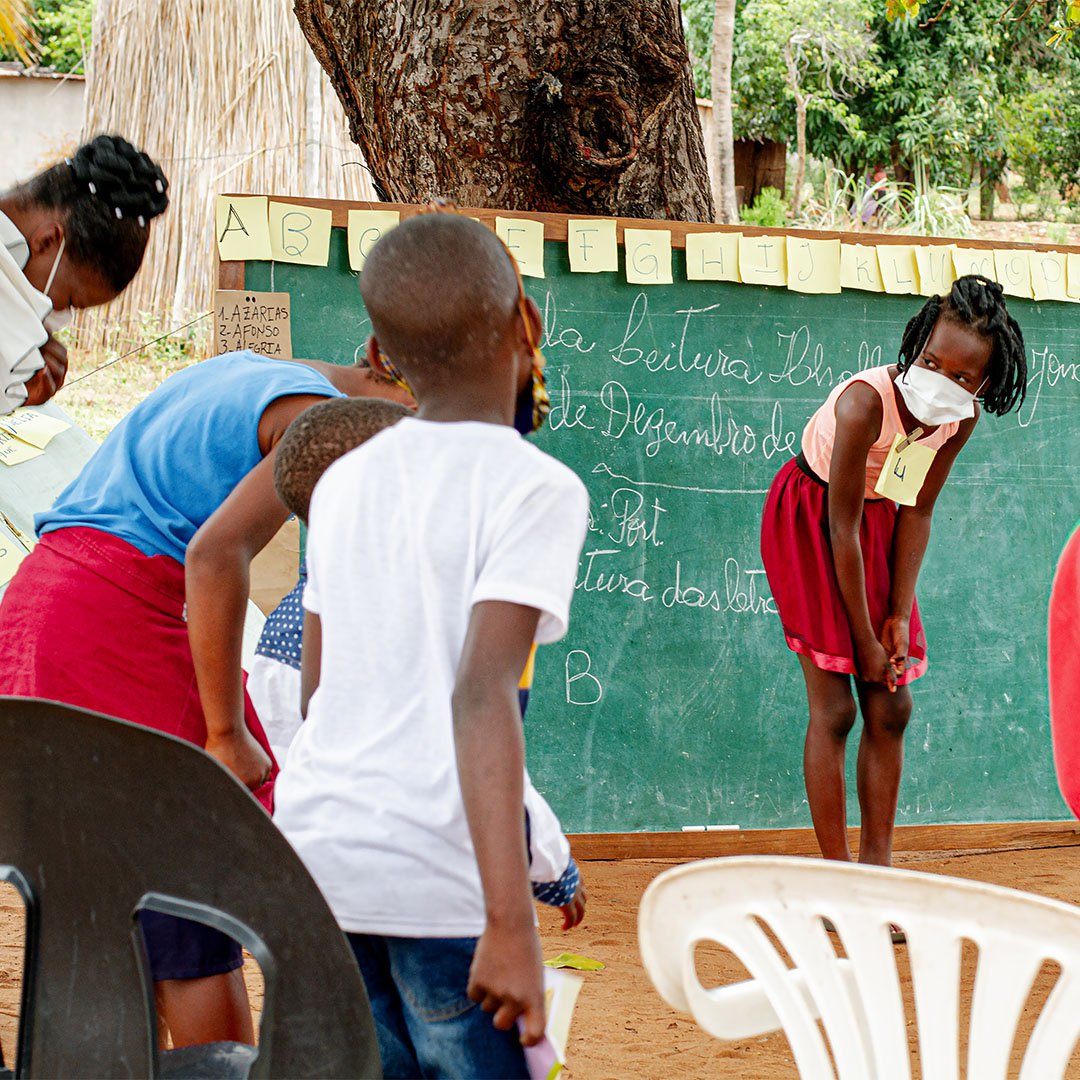 ---
These literacy clubs are a part of the Gender Responsive Education and Transformation (GREAT) program. GREAT began in 2018, with the financial support of the Government of Canada provided through Global Affairs Canada. Active in Ghana, Mozambique and Rwanda, GREAT uses Right To Play's play-based learning approach to remove barriers to education, especially for girls, and to build teacher capacity to improve learning outcomes.
---